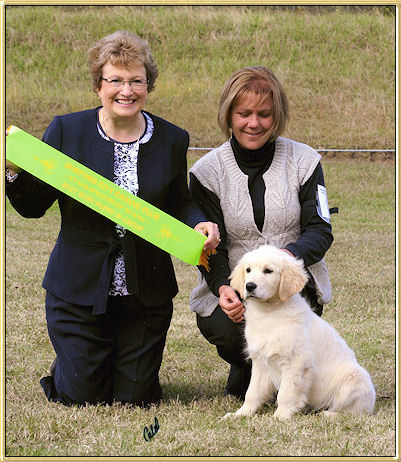 Thanks for taking a moment to visit us at Elljoa.
Nestled between Rouse Hill and Windsor NSW on our property in the beautiful Hawkesbury Region with my husband Steve, we have been involved in training, showing and breeding Golden Retrievers since 1995.
Our kennels were named after our first two golden retrievers Ellie and her beautiful daughter Jody from the Phileni Kennels who went on to become my foundation bitch. We will be forever grateful to have been able to share our lives with such beautiful girls.
We have come a long way from those early days where countless visits to shows and obedience trials with friends only served to reinforce my passion for the Golden Retriever dog as one of the most versatile, loyal and intelligent companions a family could wish to own.
Our golden life has led us down a wonderful and varied path together, we have had the pleasure to meet with some lovely families from all over Australia and overseas as well as working closely with Assistance Dogs NSW and Pets as Therapy and providing treasured companions to nursing homes and people with disabilities.
Our kennels have stayed small in order to give each of our dogs their time to shine and we incorporate some of the very best in English and Australian Championship blood lines in our breeding program. All our breeding dogs are tested for hereditary associated conditions and hold hip, elbow, clear heart and current eye certificates.
Our aim at Elljoa is to never stop learning as we strive to breed for soundness, type and temperament, the foundations for the perfect family dog.
I hope you enjoy meeting our dogs and know that we are always available to answer your enquiries regarding this wonderful breed.